Shopping
There are a lot of shopping centers in Azerbaijan. The most famous them are the followings.
28 MALL
28 Mall is a trading and entertaining place in the centre of Baku which hosts a lot of stores and boutiques of the leading European and American brands, mostly intended for youth, such as Bershka, New Yorker, Pull and Bear, Zara, LCWaikiki, Mango, Aldo and others. The stores for kids' and juvenile's clothing are presented in a separate section. In addition one can find the stores for electronics, perfumery and cosmetics, watches and jewelry and a supermarket here. In Along with an interesting shopping you can have delicious food in the 28 Mall Trade centre. Restaurants and cafes cover the whole floor. And the last floor is allocated for ultramodern cinema. The Centre is open from 10 am to 10 pm every day.
AZURE SHOPPING CENTER
Azure trading and entertaining centre covers 4 floors with the gross area of 40 000 square metres: the shops here offer the products of international brands; there are boutiques and a supermarket here as well. The second floor of the trade centre hosts foods-court (restaurants, coffee houses, fast foods) and third floor - the Megafun Family Entertaining Center, which is the largest covered entertaining centre all over Europe. Megafun offers 206 varieties of amusement arcades, game machines and entertainment for different age categories.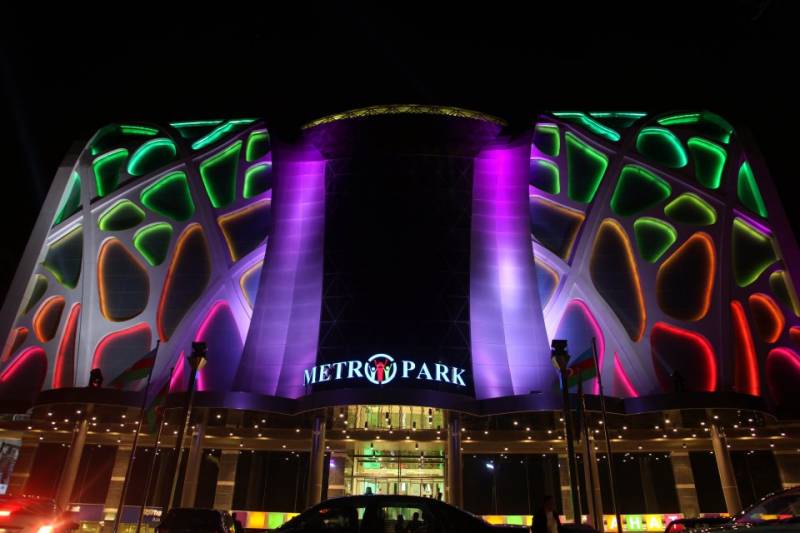 METRO PARK:
Metro Park trading and entertaining centre, locating in the capital, is capable to service millions of visitors a year. Metro Park covers 22 thousand square metres of area in the building and 13 thousand square metres of rented area in open air. It is one of the largest trading and entertaining centres of the capital. Along with boutiques and stores, filled with the products of international brands, a park of amusement arcades, a huge cinema and a lot of cafes and restaurants function in the Centre as well. United Colors of Benetton, Mango, US Polo Assn, Jack&Jones, LTB by Little Big and others are among the fashionable brands presented here.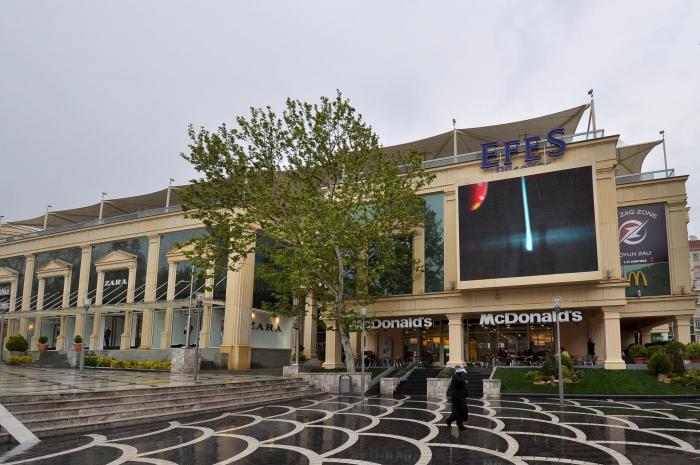 NARGIZ Shopping Centre:
The total area of shopping centre NARGIZ is7,500 square meters. On three floors there are shops, cafes, restaurants (McDonald's on the ground floor and on the third Dalida). Note that in the shopping centre the products of famous brands such as ZARA, Bershka, ALDO, etc. are presented. "Nargis" is open 12 hours, 7 days a week.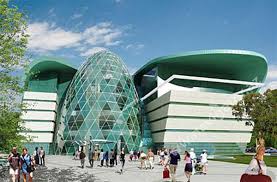 PARK BULVAR
The most popular trading and entertaining centre of the capital – Park Bulvar – is in the National Seaside Park. There are always a lot of people here, it is always interesting and joyful here, since the Boulevard is a place where the citizens of Baku and the guests love to spend their time in walking. No doubt, Park Bulvar is an ideal place for shopping and spending leisure time. A lot of boutiques and stores, a planetarium, a 6-room cinema, a game zone, food court, a supermarket, an underground parking occupy the area of17 000 square metres. There is a huge variety of fashionable brands in the centre. The customers may chose between Pierre Cardin, Cacharel, United Colors of Benetton, Mango, Zara, Playlife, US Polo Assn, Debenhams, Jack&Jones, Aftershock, Collins, BMW Lifestyle Shop and other brand stores. The boutiques for perfumery and cosmetics, the stores for accessories and optics, souvenir shops etc. are there in the centre as well.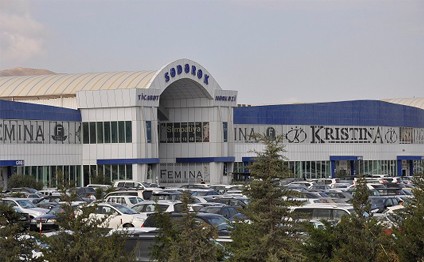 SEDEREK TRADE CENTRE
'SEDEREK' trade centre locates in the suburbs of Baku in eastern part of Lokbatan settlement on the area of over100 hectaresand is considered to be a big trade centre in the South Caucasus. The complex includes over 12 000 retail and wholesale points, a bazaar of agricultural goods, one-storey wholesale storehouse and different other technical constructions. There are a lot of shops for clothing, shoes, furs, leather, textile, dishes and household appliances of the most famous international manufacturers.