Azerbaijan shares land borders with Russia, Georgia, Armenia, Turkey and Iran which forms a total of 2,648 kms. Of that Armenia shares 1007 kms, Iran 756 kms, Georgia 480 kms, Russia 390 and Turkey 15 kms. The boundary which Azerbaijan shares with the Caspian Sea extends to a total of about 456 kms. The country measures 400 kms from north to south and 500 kms from east to west. 40% of the country is covered by mountain ranges, of which the three major ones are Greater and Lesser Caucasus and the Talysh. The highest mountain is Bazardüzü Dağı which lies in Greater Caucasus range. More than half of the mud volcanoes in the world are located in Azerbaijan.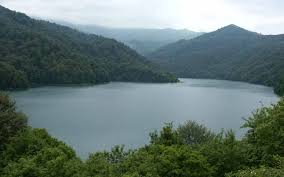 There are nearly 8,350 rivers in the country of which only 24 are long enough to be counted. All the rivers ultimately meet the Caspian sea. The longest river is Kur measuring 1,515 kms in length, but it flows from Turkey through Georgia into Azerbaijan where it meets Aras river before flowing into the Caspian sea. Azerbaijan total territory also consists of four islands in the Caspian Sea which form an area of 30 sq.kms.
Country:
Azerbaijan
Co-oridnates:
40°30'N 47°30'E
Area:
Total: 86,600 km²,Land: 86,100 km²,Water: 500 km²
Land Boundaries:
Total: 2,013 km
Coastline:
Caspian Sea: 800 kms
Elevation:
Lowest Point: Caspian Sea: -28 mtrs,Highest Point: Bazarduzu Dagi: 4,485 mtrs
Official language:
Azerbaijani/span>
Business languages:
Azerbaijani, English and Russian
Islands:
Bulla, Çikil, Çilov, Gil, Glinyaniy, Nargin, Pirallah, Qara Su, Qum, Səngi Muğan, Vulf, Zənbil
Land Use:
Arable Land:18%,Permanent crops:5%,Permanent pastures:25%,Forests and woodland:11%,Other:41%
Irrigated Land:
10,000 km²
The cold artic winds of Scandinavian and temperate winds from Siberia and Central Asia contribute the extreme temperature in Azerbaijan. The influence of these winds is somewhat reduced due to the Greater Caucasus mountain ranges, which block the cold winds, leading to a subtropical climate.
Nine out of eleven climate zones are present in Azerbaijan. Temperatures vary within the country depending upon the region's proximity to sea, regional landscape and effect of artic and temperate winds. As we go towards the Caspian Sea temperatures do not seem so harsh due to the effect of nautical winds. But towards the mountains, warmth begins to lose its importance and temperature drops to an average of 4-5 °C. At its extreme, temperatures can reach a maximum of 46 °C, and in winters can get harsh at -33 °C.
Plant diversity is high in the Nakhchivan region where 60% of the plant species are found. Behind Nakhchivan are the regions of Kura-Araz plain, Davachi-Quba region, East of Greater Caucasus, Centre of Lesser Caucasus, Gobustan, Lenkoran region of Talysh Mountains and Absheron region where rest of the flora is found.
There are 400 species of plants, 15 species and 6 sub species of gobies and freshwater fish which are local to Azerbaijan. The government of Azerbaijan is trying to protect its forests by preserving 2.5 % of its land as state reserve. There are 16 state reserves in the country to protect the flora and fauna of Azerbaijan.